Jun 07, 2023
zaid
No Comments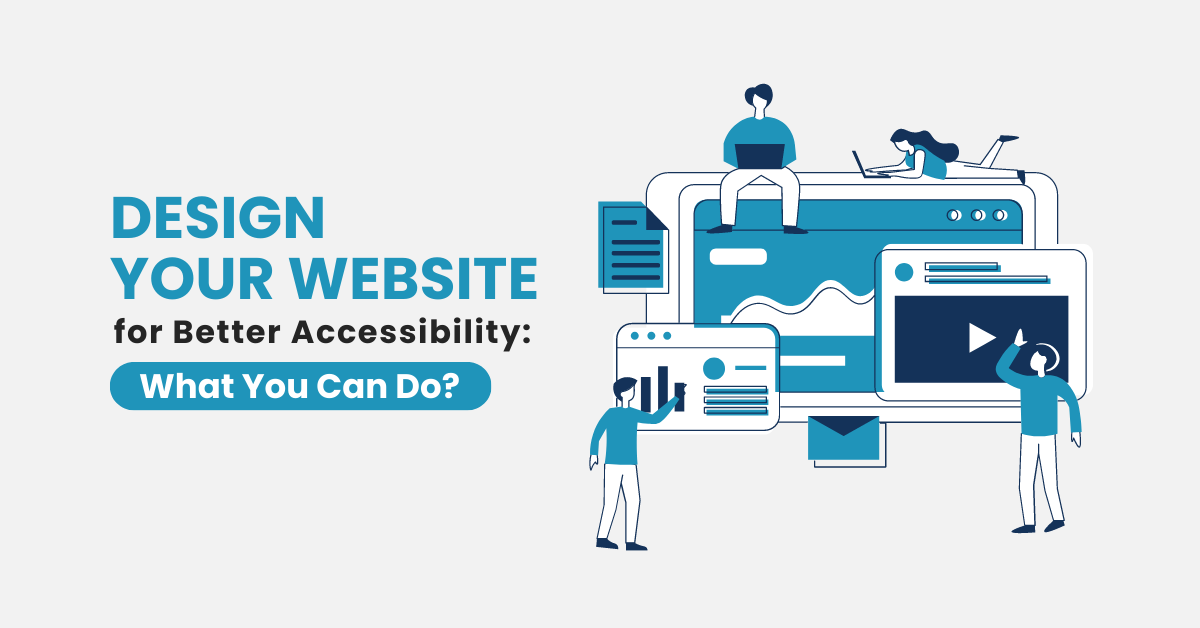 Life sure moves at a breakneck speed these days! But even with all the chaos, the significance of inclusive design in our digital world cannot be overstated. Can you imagine trying to navigate the web without being able to access or interact with essential sites? For people living with disabilities, this often is their reality. Praise the heavens – enter DS Technologies, who have been pioneers in providing cutting-edge digital solutions and completely revitalizing one remarkable software company's accessibility game. Kudos to them!
When SynapseSoft, a pioneer in tech software development, noticed the urgency to make their online presence open to all, no matter what their skills and abilities were, they went straight to DS Technologies. DS is credited as one of the most innovative and illustrious organizations when it comes to data science; so, they were given the task of upgrading SynapseSoft's website with better accessibility options that would add another level of empowerment for their users. How awesome!
Getting to Grips with Accessibility: A Challenge We Can't Ignore
DS Technologies had a mission to make browsing life easier for people with disabilities. Their team, consisting of experienced data scientists, software engineers and user experience experts, gathered together to understand the struggles these individuals encountered due to impairments such as vision loss, hearing difficulties or physical coordination problems. They were all set and ready to get this project rolling!
Taking a Closer Look at the Current Website
To get the ball rolling on this transformation, DS Technologies put their experience with accessibility guidelines and standards to work in an extensive audit of SynapseSoft's website. They didn't miss a beat investigating the interface, content structure, and interactive elements – examining every nook and cranny for potential WCAG 2.1 compliance issues.
Navigating with Confidence: Improving the User Experience
DS Technologies plunged into the depths of SynapseSoft's website design and layout, carefully scrutinizing color contrast, font sizes, and typography for visually impaired users. They managed to navigate their way through a series of strategic modifications, crafting a more inclusive design that caters to people with varying visual abilities.
The team went the extra mile to give the website some well-deserved TLC and totally revamped its navigation structure, making it more user-friendly and intuitive. What's even better? Keyboard accessibility was optimized for a smoother interaction experience for those with motor impairments! To top it off, they implemented ARIA attributes which noticeably enriched the website's interactive elements. This makes complex functionalities easier to comprehend – even screen reader users can understand them without a hitch!
Empowering Lives with Assistive Tech:
Discover how assistive technologies are giving people back their independence!
Woah! DS Technologies definitely went the extra mile for SynapseSoft – integrating support for a world of assistive technologies. They thoroughly tried and perfected compatibility with popular screen readers, like JAWS and NVDA, giving visually impaired users smooth accessibility. And they didn't stop there – assurance of voice recognition software compatibility allows those with motor disabilities to navigate just as naturally through their vocal cords!
Staying in Step with Cutting-edge Tech!
DS Technologies saw the awesome possibilities of new technologies in improving accessibility. They tapped into the magic of AI and machine learning to automate captions for multimedia files on SynapseSoft's site: no manual captioning necessary, providing a more efficient and inclusive experience for all!
Going Above and Beyond Compliance: Cultivating an Inclusive Atmosphere
Making sure their project followed accessibility standards was of the utmost importance to DS Technologies. But they didn't stop there! Taking it one step further, they nurtured an inclusive culture within SynapseSoft by providing thorough training sessions. These were designed to equip the software company's developers and designers with the understanding and resources needed for creating accessible digital experiences – ensuring that DS Technologies' efforts had a lasting effect!
DS Technologies' partnership has made a huge impact! From the increase in flexibility to the reduction in costs – it is clear that this strategic move has had far-reaching positive repercussions. It's totally impressive what they have been able to achieve through collaboration and sheer hard work. Who would've thought that such a business initiative could bring about this sort of transformation? Talk about innovative thinking! Go team DS Technologies!
The Colossal Transformation
The partnership between DS Technologies and SynapseSoft was a smashing success! Utilizing their expert know-how and technical capabilities, DS Technologies was able to take SynapseSoft's website to the next level by making it an accessible digital space for all. Suddenly, visually impaired users were navigating the site like a breeze while motor impairment holders could effortlessly interact with ease.
This colossal transformation brought more than just compliance benefits; it garnered tremendous praise from audiences everywhere – leading to an influx of constructive feedback and heightened user engagement. Through their effortless inclusivity, not only did they broaden their audience but also solidified themselves as an organization that deeply cares for all those who come through its doors!
DS Technologies had some impressive feats under their belt that caught the attention of the industry, sending accolades and commendations for their incredible advances in accessibility. They inspired other software companies to follow in their footsteps and launch into their accessibility journeys.
SynapseSoft and DS Technologies have seen tremendous success as a reminder that inclusive design isn't just an obligation, it's a total win for businesses. Incorporating all users in the design process gives businesses access to previously unheard-of markets – it can also foster stronger customer relationships based on mutual understanding and empathy. To put it simply: inclusive design is key for modern companies!
Looking to make your website easily accessible? DS Technologies is the perfect partner since they are knowledgeable and always up-to-date. Ready to get started? Here's your game plan:
Let's get started on that accessibility audit! Take a close look at everything – design, content, interactive elements – and pinpoint any areas that don't measure up to WCAG standards. Make sure you're sprucing up those places for maximum accessibility.
Prioritize user experience to make sure individuals with disabilities can enjoy an optimal experience! Make your colors contrast, choose fonts and typography that are easier to read and sort out the navigation so it's keyboard-friendly. Tweak ARIA attributes too – this is all essential for a seamless interaction.
Embrace assistive technologies like screen readers and voice recognition software – they'll give users with visual, auditory, or motor impairments a smoother experience. To make sure it works perfect every time, it's best to test compatibility with the popular tools on the market. Go for it!
We can leverage emerging technologies to make content more accessible. Automating captioning with artificial intelligence and machine learning is an awesome way to open up the floodgates for a larger audience. Just imagine how many people this could help – it's amazing!
Educate and train your teams to create inclusive digital experiences! Empower your developers and designers with some immersive training sessions that cover the essential principles of inclusive design. By doing so, you'll foster a truly diverse culture within the organization. Let's ensure everyone has equal access!
It's important to always keep accessibility top of mind – it shouldn't be a one-off affair, but rather an ongoing responsibility, eh? Be sure to check in with your web pages regularly: make sure they follow the current guidelines and are totally up-to-date. That way you can rest easy knowing you're taking steps for total compliance.
Success and Us
DS Technologies and SynapseSoft's success story is an inspirational reminder of how vital accessibility is – not just for businesses and individuals, but our world as a whole. Investing in inclusive design has the power to create opportunities beyond what we imagine; unlocking a world of digital experiences for people with disabilities. Astonishing, really!
Are you ready to start the journey towards an accessible and inclusive future today? Join forces with DS Technologies, a revolutionary company that believes that everyone should have access to information, services, and opportunities. By making accessibility your primary value when building your website, you'll be able to catalyze positive change around the world! So, take that first step now – let's design a brighter tomorrow for everyone.