Aug 03, 2023
zaid
No Comments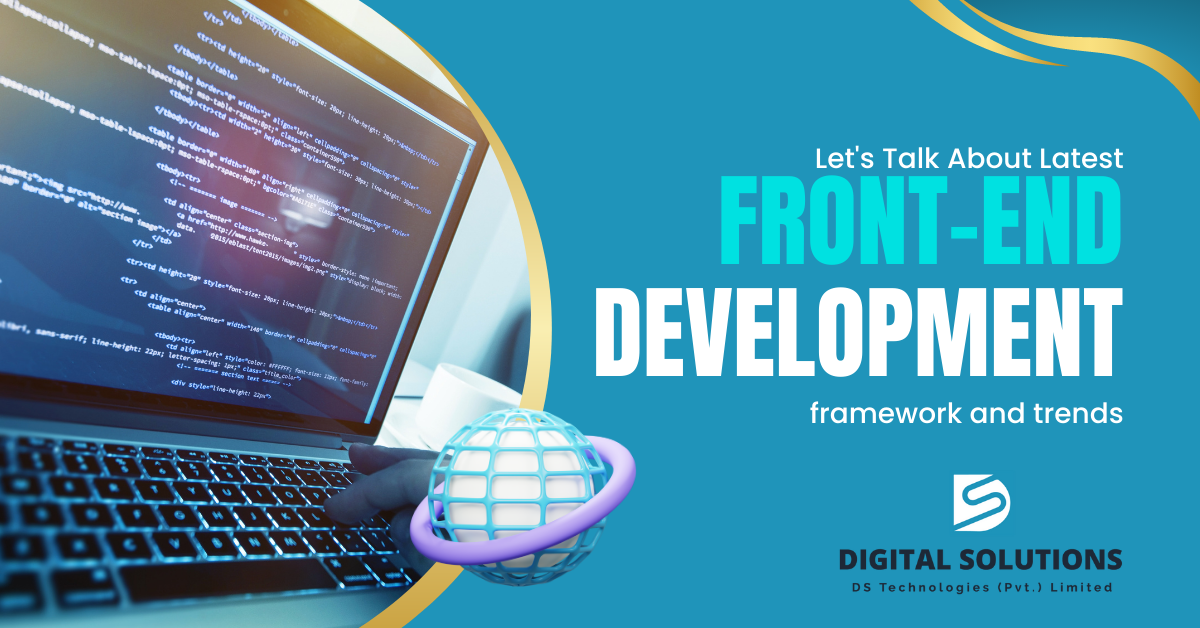 Have you ever struggled to keep your software company ahead of the curve with ever-evolving front-end development frameworks and trends?
It's daunting!
Fortunately for a prominent client, DS Technologies–the unbeaten innovators in software solutions–stepped in to save the day.
Let me tell you about their captivating journey: they were determined to empower the client's software company with the most up-to-date technology.
And, boy, did they succeed! Their expertise enabled the business to elevate its digital prowess and gave them an edge over competitors.
Amazing, right?
Client Profile
Our client, a renowned software company, created an enviable array of applications and websites. Sadly though, they were having trouble keeping up with the rapidly changing front-end dev landscape.
As their existing system started to show its age, they approached us at DS Technologies for help. We offered them a solution that wouldn't just save them from becoming outdated but also give their user experience a boost and help strengthen their business growth.
Step Into DS Technologies!
Famous for their software prowess, DS Technologies was eager to get a holistic understanding of the client's needs.
Realizing they needed something groundbreaking for the front-end development framework – they took it upon themselves to revamp their client's software landscape! Now that's what we call forward thinking!
Zeroing in on the Ideal Framework
After thorough research, the DS Technologies team had no doubt in their minds: ReactJS was the way to go! With its component-based architecture and impressive rendering abilities, this open-source JS library maintained by Facebook had it all.
Performance? Check. Scalability? Done.
Intuitively easy use and a vibrant community of support making it the obvious choice for software development projects. The gang really took their time to meticulously evaluate each framework based on a variety of factors – they were sure not to rush into just any outcome!
Get the Most Out of ReactJS for Big Performance Gains!
Once the decision was taken to adopt ReactJS, DS Technologies jumped on board and got down to transforming the client's existing apps with this powerful framework. They thoughtfully mapped out a migration plan that promised a smooth transition and preserved the current functions as well as design.
By leveraging ReactJS, DS Technologies transfigured their client's software company into a world-beater – major improvements were made in terms of application performance and responsiveness. Utilizing the virtual DOM (Document Object Model) to cut down on rendering time emphasized smoothness in user experience. Further, ReactJS's component-based architecture allowed for code reuse – shorter development cycles and better maintenance were the super power rewards!
Staying Up-to-Date: An Obsession with the Latest Trends!
DS Technologies didn't just settle for ReactJS! No, they went above and beyond, exploring and making use of the very best trends in front-end development. We're talking serverless architecture, progressive web apps and responsive design — all on the table! Talk about staying ahead of the curve!
At DS Technologies, they wanted to make sure their client could rise to the challenge of their fluctuating traffic volumes. So, they embraced a serverless architecture which ensured effortless scalability. With Progressive Web Apps (PWAs), their users had an app-like experience no matter what device they used. And, responsive design principles meant the applications automatically adjusted to different screen sizes and devices for a consistent user experience across platforms – how cool is that?
Results and Conclusions Clinched
DS Technologies really delivered for this client's software company. ReactJS and the latest front-end trends combined to give them incredible performance, scalability and user experience boosts. Results? Blazing fast page rendering times, code reusability that can't be beat, and an adaptability like no other – thanks to these game-changing updates, this client now stands out from the rest in their industry!
DS Technologies' case study really shows off the power of staying up to date with the trendiest front-end development frameworks. It's proof that you can't go wrong by keeping up on what's in vogue.
Stand out from the crowd! Draw your customers in with truly extraordinary digital experiences that will wow them.
As technology constantly refines and updates, it's crucial for software companies to collaborate with industry greats such as DS Technologies if they want to traverse the tough terrain of front-end creation. By fully capitalizing on the foremost frameworks and trends, businesses can easily transform their apps into powerful tools that'll lead them straight to victory!
Inspiring success! That's what DS Technologies and their client have achieved – a striking example of how software companies can revolutionize their front-end development. With the savvy selection of ReactJS as the go-to framework, DS Technologies showed they had more than their fair share of insight when it came to identifying and implementing cutting-edge technologies that specially catered to their client's distinct demands. Wow!
ReactJS's component-based architecture not only allowed us to easily integrate existing capabilities, but also enabled code reuse – saving heaps of precious time and energy.
And let's not forget about that super speedy virtual DOM rendering which was a total game changer and helped create an unbeatable user experience. DS Technologies' carefully plotted migration strategy totally paid off too, with hardly any interruption in the client's everyday operations.
No ordinary approach was taken by DS Technologies: they went above and beyond to make sure their client's applications didn't just work, but flourished with cutting-edge technology! Taking it a step further, serverless architecture made scaling their user base easier than ever, without breaking the bank.
Ahh… and then there's PWAs; you know that app-like feeling? That was brought to life with progressive web apps — no matter what device or platform, users had a seamless experience. It wasn't just about aesthetics though! Responsive design principles assured the applications functioned properly across multiple screen sizes too — talk about taking every detail into account!
The outcomes were unbelievably awesome.
Our client's apps ran way faster and smoothly, with unbeatable performance that had users totally immersed in the incredible digital experience. That supercharged engagement kicked up customer satisfaction levels through the roof – and a massive business growth boost just came along for the ride!
DS Technologies' case study is a shining example of their dedication to pushing the envelope when it comes to innovation, technical know-how and staying on top of the latest web development trends.
By joining forces with an experienced software engineering team that places technological progress as its highest priority, companies can realize their full potential while forging ahead towards success!
Finally, the incredible tale of DS Technologies and their client's software company is a testament to the tremendous value in embracing modern front-end development frameworks and trends. Thanks to their decision to use ReactJS, implement inventive practices, and secure perfect integration, they were able to empower their customer's success when faced with a fierce digital environment.
The case study reveals how leapfrogging the competition helps foster flourishing user experiences that generate enterprise advancement.