Jun 12, 2023
zaid
No Comments
London Tech Week 2023 kicks off today, bringing together global tech leaders in a vibrant atmosphere of innovation and collaboration. With the Honorable Mayor of London, Sadiq Khan, and the esteemed Prime Minister, Rishi Sunak, headlining the event, this year's edition holds immense significance for the global tech community. The P@sha delegation from Pakistan, led by Chairman M. Zohaib Khan, joins the event to share experiences and learn from best practices in the tech industry.
Day One Highlights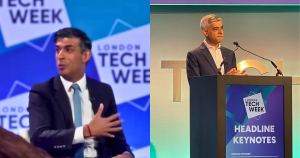 (In attendance at the event were British Prime Minister Rishi Sunak on the left and Mayor of London Sadiq Khan on the right, both actively participating and engaging with the attendees.)
The first day of London Tech Week 2023 witnesses a remarkable start, with attendees from around the world eagerly gathering to explore the latest tech trends. Mayor Sadiq Khan, an advocate for London as a leading global tech hub, delivers an inspiring opening speech, highlighting the city's achievements and its vision for the future.
Prime Minister Rishi Sunak underscores the government's commitment to fostering a favorable business environment for tech companies, emphasizing collaboration, innovation, and digital transformation for sustainable economic growth.
The P@sha delegation, led by Chairman M. Zohaib Khan, expresses pride in being part of London Tech Week 2023, showcasing Pakistan's remarkable progress in the tech industry. Digital Solutions (Pvt.) Ltd, (a part of P@sha's delegation) is represented by CEO M. Athar Rasool.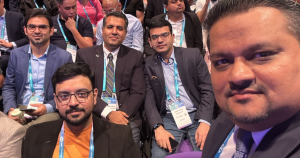 (In the bottom left, we see M. Athar Rasool, CEO of DS Technologies, and on the right, M. Zohaib Khan, Chairman of P@Sha, accompanied by other members of the Pakistani delegation in the background.)
Key Themes and Topics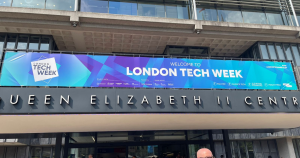 London Tech Week 2023 covers a wide range of topics relevant to the tech industry, addressing both emerging trends and challenges. Key themes explored during the event include:
Digital Transformation and Industry 4.0: Discussions revolve around leveraging emerging technologies such as AI, blockchain, IoT, and cloud computing to drive digital transformation across industries.
Sustainability and Green Tech: Dedicated sessions focus on green technologies, renewable energy solutions, circular economy practices, and the role of tech in addressing climate change.
Cybersecurity and Privacy: Experts share insights on cybersecurity strategies, best practices, and emerging technologies to protect digital assets and user privacy in the face of escalating threats.
Future of Work: Sessions explore remote work, hybrid work models, automation, and upskilling to meet the demands of the digital economy and shape the future of work.
Diversity and Inclusion in Tech: Emphasizing the importance of diverse perspectives, sessions highlight inclusivity, gender equality, and fostering innovation through diversity in the tech industry.
Conclusion
London Tech Week 2023 sets the stage for meaningful discussions, networking, and collaboration among global tech leaders. The participation of the P@sha delegation led by Chairman M. Zohaib Khan showcases Pakistan's remarkable progress and its potential for innovation and collaboration on a global scale.
As London Tech Week progresses, attendees can look forward to engaging sessions on various topics, including digital transformation, sustainability, cybersecurity, the future of work, and diversity and inclusion in tech. The event provides a platform for knowledge sharing, innovation, and collaboration, shaping the future of the tech industry.
With a focus on emerging technologies and addressing key challenges, London Tech Week 2023 contributes to the advancement of the global tech community.
Stay Tuned for more!