Jun 02, 2023
zaid
No Comments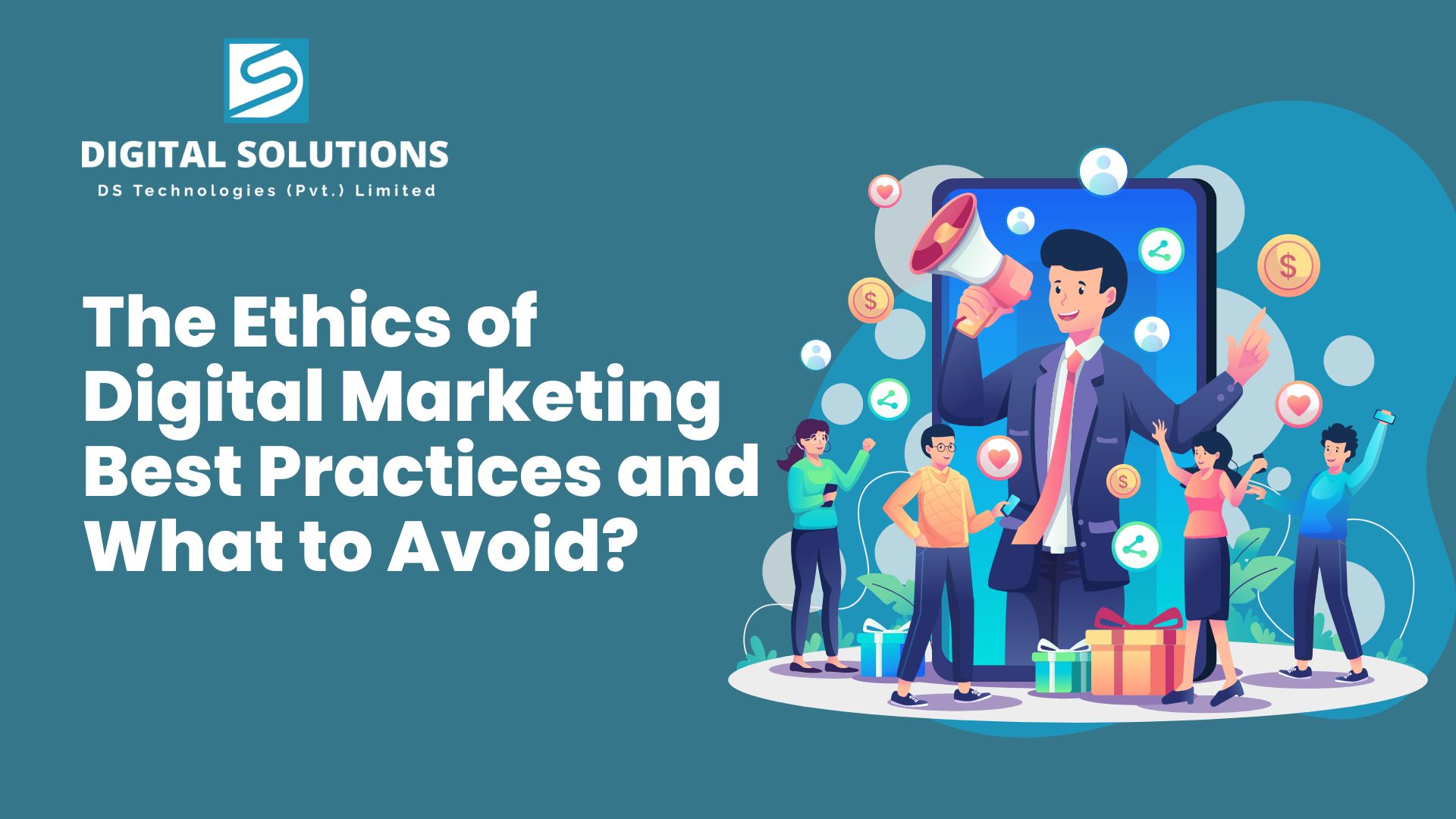 Step into the digital realm and be wowed by the fierce competition between businesses clamoring for attention.
DS Technologies is a shining example of ethical practices, leading from the front with integrity and respect for its customers.
As a top-notch organization in this industry, they get that having high standards is key to success in digital marketing. Dive into this blog to discover DS Tech's best practices and cutthroat methods of avoiding unethical actions when engaging audiences online – it's sure to be enlightening!
We'll uncover what makes them successful at building trust and offering unbeatable value to their customers; let's come on an interesting journey as we unravel the intricacies of ethical boundaries within digital marketing!
Transparency: Building Trust and Authenticity
Transparency: the key to engendering trust and authenticity. Let's give this critical concept the attention it deserves! It's essential for strong relationships between individuals, organizations, and the public – not to mention an absolute necessity in fostering credibility.
It's easy for people to question motives and be wary of conversations that don't appear genuine or honest, but when sincerity is revealed through transparency, those doubts are more likely to dissipate.
DS Technologies' commitment to transparency in digital marketing is the bedrock of its ethical approach. They believe that a strong connection with customers is established through open and truthful communication; this includes disclosing pricing, terms, conditions, and any risks associated with their offerings.
With complete transparency, customers can make educated decisions about what's best for them – inspiring trust in the brand. Nothing remains hidden; it's clear as day!
Data Privacy: Safeguarding User Information
Data Privacy is key to protecting user information! We must ensure this sensitive data remains secure and out of the wrong hands.
Keeping users' private information secure and safe should be the top priority. And remember: whether it's collecting data for marketing purposes or keeping profiles up-to-date, never sacrifice user privacy—it's our responsibility to defend their trust in us! Let's do this right: safeguard user data with comprehensive safety measures and never let 'em down.
These days, with personal information easily misused, the company is extremely committed to upholding data privacy. No detail goes overlooked – they strictly follow industry regulations and best practices to protect their customers' sensitive information.
With explicit consent before collecting personal data – plus top-notch security systems in place – the company genuinely respects customer confidentiality. Not only that, but it's a solid testament to their strong ethical stance.
Targeted Advertising: Balancing Relevance and Privacy
Targeting advertisements to ensure that they are both relevant and preserve the privacy of individuals can be tricky. Finding the balance between these two things often requires a delicate touch. You've got to know when to boldly go where no man has gone before and consider potential ramifications down the line.
To ensure a successful outcome, it's important to consider all possibilities – not just take it for granted that one approach will work in all situations! Plus, customers should be kept in the loop so they can make informed decisions about whether or not they want their data to be used in such a way. These steps are essential for finding a healthy equilibrium between two seemingly opposing forces.
The firm fathom the significance of precisely pinpointing users with their ads to deliver the most applicable content. They recognize the necessity of getting the equilibrium between relevance and privacy just right.
Therefore, they won't utilize impolite tactics that disturb a customer's experience or disrespect their confidential information. Instead, they will apply high-end technology and data dissection to customize ads, which keeps personal data anonymized and merged in summary form.
In this way, clients can have tailored offerings without risking their privacy — thus upholding principles of proper online advertising conduct!
Social Responsibility: Promoting Positive Impact
As a business, it's important to prioritize our responsibility to promote positive social impact. Not only does this demonstrate good corporate ethics, but it also helps build strong relationships with customers and communities.
From supporting local charities and volunteering our time to encouraging responsible environmental practices, we can make an impact – big or small – that goes beyond the bottom line. Let's help create a better tomorrow; together!
DS Technologies takes social responsibility seriously, putting effort into initiatives that have a real, positive impact on society.
They only partner with causes that reflect their values and ethics—needlessly to say, this raises brand awareness and contributes immensely to their target audience's well-being. Plus, they go beyond mere words and commit to ethical practices: Their dedication is unmistakable!
Honesty in Advertising: Avoiding Deceptive Tactics
Honesty's the best policy when it comes to advertising – so steer clear of deceptive tactics! Make sure you represent your product or service accurately, and don't make claims that aren't true. Don't fall into empty promises; be honest with people.
Sure, slick claims and seductive sales pitches might sound good, but they lead to trouble in the long run.
Here's a tip: To be truthful, it doesn't cost anything – and you'll avoid all sorts of headaches along the way! So keep it real, tell it like it is, and reap the rewards of straightforward advertising.
The company is rock solid in its commitment to honest and open marketing. They refuse to use dodgy strategies like phony declarations, overblown pledges, or cozy-up facts about their items or services. The company creates a positive aura of consumer trustworthiness by holding true to factual data. This approach guarantees that purchasers can make informed choices and fosters a bond based on principles that will last.
Customer Engagement: Active Listening and Responsiveness
Engaging with customers is essential and requires active listening and responsiveness. It's not just about hearing what they say – it's all about making sure you listen! By utilizing the power of body language, eye contact & facial expressions – as well as the spoken word – you make a connection on a human level.
And when responding to their queries, ensure that your message conveys empathy & understanding; this way, customers will know that their feedback has been truly heard & appreciated. Oh, and don't forget to give them plenty of thanks along the way! With strategically placed 'thank-you's,' this simple act can strengthen client engagement.
DS Technologies knows that staying engaged with customers means more than broadcasting information – it's about listening attentively to and responding to their feedback. They focus on creating two-way communication avenues, like social media pages and customer service resources, for queries, worries, and ideas.
By swiftly dealing with customer inquiries and providing helpful solutions, the company shows how much they value their customers' opinions – all of which help keep the relationship going strong.
Influencer Marketing: Authenticity and Transparency
The world of influencer marketing demands authenticity and transparency. That means no cutting corners, folks! Be real and honest with the audience to help build relationships and trust.
There's no place for bragging or pretending – it's all about being genuine with your message. Insert a few figures of speech to make an impactful statement: successful influence requires "no half-truths and showmanship" to truly stand out in this competitive field. And most importantly, don't forget that people respond best to honest interactions – that's when the real magic happens!
Influencer marketing is a must-have weapon in the digital marketing world. And DS Technologies takes an authentic and honest approach to it! They handpick influencers genuinely sharing their company's values and products – so collaboration makes sense.
They even abide by ethical practices by having influencers openly reveal any partnerships when creating content about their products or services. This way, customers know exactly which collaborations may be influencing the posts they consume. Smart move!
It's important to exemplify accuracy and integrity when creating content. Absolutely no cutting corners or deviation from the truth! Ensure you rigorously check everything, double-check facts and figures, and thoroughly source and back up your claims to truly be responsible as a content creator. Let's demonstrate exemplary behavior here – there's no room for recklessness or inaccuracy!
Responsible Content Creation: Accuracy and Integrity
DS Technologies puts great effort into crafting 100% reliable and enlightening content – they never spread false news or resort to clickbait tricks for attention. They invest in research and fact-checking to give their customers invaluable, dependable information.
By upholding the highest standards of precision and integrity, the company earns credibility and establishes itself as an authority within their sphere.
DS Technologies is a beacon of light in the continually-changing tech landscape, and its ethical digital marketing practices serve as an exemplar for all to follow. Think transparency, data protection, tailored advertisements, social responsibility, and ad honesty – plus customer interaction and influencer promotions. By embracing these key values, businesses can grow an authentic rapport with their customers, leading to credibility and loyalty.
Let's all get behind DS Technologies' initiatives and create a digital realm where truthfulness is king!